From Templates (Residential)
1. Determine what order to make the cuts to ensure that no pieces get cut into
a. Make sure to account for pieces not outlined with a template (ex. Backsplash)
b. If possible make all cuts in one direction then all cuts in the other direction
2. Cut out the pieces (Saw Controls )
a. For each lined cut traverse in the Y axis and rotate the table to align the laser with the line
b. First plunge in the z-axis direction, then traverse in the x-axis direction
c. For inside corners and angles be careful not to cut too far
i. Unless the edges are flat polished or beveled leave 3" on each side from the corner
ii. Inside corners and angles also require a second cut parrallel to each line 3-6" away to protect the corner from chipping
d. For pieces not outlined program the controller to cut the dimensions of the piece
3. Record the job number, edge thickness, color, edge type, slab number, and number of pieces and splash cut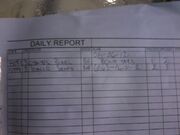 on the Daily Report form.
4. Remove the excess material
a. If excess piece is 23" x 40" or bigger put it in the bone yard for future use, otherwise discard the material
5. Deliver the pieces to the next step
a. Put all backsplash on the industrial storage rack by the saws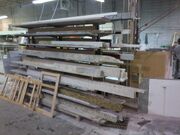 b. Bring all other pieces on a cart to the CNC/Luna Area
From Drawings (Commercial)
1. Obtain the engineering drawings
2. Move a slab for the job onto the saw table
3. Determine how to best cut out the required pieces
4. Cut out the Pieces
a. program the saw to ensure accurate dimensions
5. Record the job number, edge thickness, color, edge type, slab number, and number of pieces and splash cut on the Daily Report form.
6. Remove the excess material
a. If excess piece is 23" x 40 " or bigger put it in the bone yard for future use, otherwise discard the material
7. Deliver the pieces to the next step
a. Put all backsplash on the industrial storage rack by the saws
b. Give the remaining pieces to the commercial fabricators